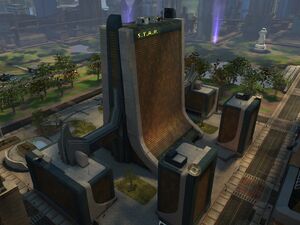 The Old S.T.A.R. Labs building was the original S.T.A.R. Labs headquarters in Metropolis. Located in the Downtown district of the city, across from Centennial Park, the labs now serve as a secondary location for the corporation following the building of a new headquarters in the Tomorrow District.
In-Game History
Edit
Assisting in Gorilla Grodd's scheme's, Lex Luthor sends a new villain to assist Grodd's invasion of the Old S.T.A.R. Labs building and to fend of interferrence from both Barry Allen and Jay Garrick.
Inhabitants
Edit
Outside
Inside
Ad blocker interference detected!
Wikia is a free-to-use site that makes money from advertising. We have a modified experience for viewers using ad blockers

Wikia is not accessible if you've made further modifications. Remove the custom ad blocker rule(s) and the page will load as expected.