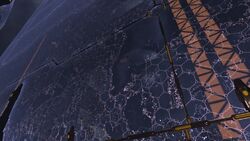 The One Gotham Center is a four-towered banking center located in Gotham City's Diamond District.
Built during the city's renewal following the decimating earthquake and No Man's Land edict, the One Gotham Center dominates the city's downtown area with its lighted quad-towers and decorative searchlight beacons.
Ad blocker interference detected!
Wikia is a free-to-use site that makes money from advertising. We have a modified experience for viewers using ad blockers

Wikia is not accessible if you've made further modifications. Remove the custom ad blocker rule(s) and the page will load as expected.