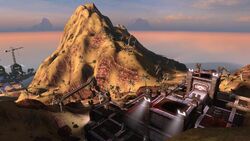 Oolong Island is a remote island located in the Yellow Sea off of the west coast of North Korea. Now under the presidency of Veronica Cale, the island nation's robots are enacting a coup against their creators.
In-Game History
Edit
An island of mad scientists has been overrun by their robotic creations. Players must defeat T.O. Morrow's Tornado Tyrant and an army of failed copies of the Metal Men before facing off with Chang Tzu.

Combatants
Edit
Briefs and Investigations
Edit
Following his defeat, T.O. Morrow hints at possessing a hideout at Ace Chemicals.
Ad blocker interference detected!
Wikia is a free-to-use site that makes money from advertising. We have a modified experience for viewers using ad blockers

Wikia is not accessible if you've made further modifications. Remove the custom ad blocker rule(s) and the page will load as expected.