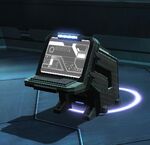 Activated for Hero players once they reach Level 30, these "kiosks" were computer terminals in the JLA Watchtower that provide the player with level 30 missions. There were two kiosks per wing (Meta, Magic, Tech) and could only be accessed once per day.
Ad blocker interference detected!
Wikia is a free-to-use site that makes money from advertising. We have a modified experience for viewers using ad blockers

Wikia is not accessible if you've made further modifications. Remove the custom ad blocker rule(s) and the page will load as expected.