Pirate is an costume style set available from the Atlantean Quartermaster or Mutineer Quartermaster seasonal vendors during the Tides of War Summer Event.
Color-Schemes
Edit
The Pirate's overall color-scheme consists of three colors that can be chosen by the Player in the Style Window. Specific sections of the style's pieces can also be allocated a more specific colour by the Player.
Emblems do not appear on this style.

ARRRR, MATEY!!!!: Collect all style in the Pirate set (n/a points), grants title: Captain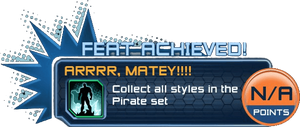 In 2017 the set was an armor style set released with Item Levels 10 to 171.
Changing the items from armor to style in 2018 seems to have been a last minute decision by the game developers since on the Test Server the set was initially available with updated Item Levels 10 to 201.