Plans
Talk

1
6,802pages on
this wiki
Plans are one-use items related to Research and Development.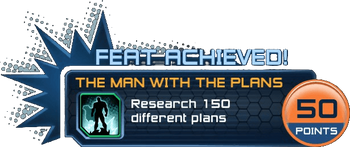 Once a plan is consumed (or "researched") by right clicking on it, a new formula for creating items becomes permanently available at a research and development table.
Plans can be separated in two differents categories; and are graded in six different levels to indicate the potency of items that can be created with them.
Plans that have already been researched will continue to drop. Players could sell them to vendors or put those on the broker instead.
Exobyte Plans
Edit
Plans for reconstructing an exobyte from exobits are received as a reward from the level 10 mission Research & Development. They cannot be sold or deleted, likely because they cannot be obtained as a drop or be bought.
Equipment Mods Plans are available in six different levels:
Alpha, Beta: the only ones actually allowing creation of items for free-to-play players
Mark I, II, III and IV: gradually more powerful and hard-to-get version of the same plans.
Mark V: requires Origin Crisis DLC
Consumables Plans
Edit
Consumables plans are available in four different levels, from Mark I to Mark IV. Once researched, they allow the creation of enhanced Soder Colas which give a temporary boost to an extra stat or supplies which can help you in battle.
Consumables Plans (Misc.)

Name
Drop
Stats
Plans: Ampoule of Terror
Mark I:
Mark II:
Mark III:
Mark IV:

Researching these plans will allow you to develop an Ampoule of Terror consumable
Plans: Cryogenic Solution
Mark I:
Mark II:
Mark III:
Mark IV:

Researching these plans will allow you to develop a Cryogenic Solution consumable
Plans: Dazing Device
Mark I: Subprime Regulator Zeta (Area 51 hard alert)
Mark II:
Mark III:
Mark IV:

Researching these plans will allow you to develop a Dazing Device consumable
Plans: Electrostatic Pulse Device
Mark I:
Mark II:
Mark III:
Mark IV:

Researching these plans will allow you to develop an Electrostatic Pulse Device consumable
Plans: Explosive Detonator
Mark I:
Mark II:
Mark III:
Mark IV:

Researching these plans will allow you to develop an Explosive Detonator consumable
Plans: Expendable Guise: Amazon
Mark I:H.I.V.E. base Duo (weekly bonus reward)

Researching these plans will allow you to develop an Expendable Guise: Amazon consumable
Plans: Expendable Guise: Assassin
Mark I:

Researching these plans will allow you to develop an Expendable Guise: Assassin consumable
Plans: Expendable Guise: Brainiac Unit
Mark I:

Researching these plans will allow you to develop an Expendable Guise: Brainiac Unit consumable
Plans: Expendable Guise: HIVE Drone
Mark I:

Researching these plans will allow you to develop an Expendable Guise: HIVE Drone consumable
Plans: Expendable Guise: Morrowbot
Mark I:

Researching these plans will allow you to develop an Expendable Guise: Morrowbot consumable
Plans: Formula of Crushing
Mark I:
Mark II:
Mark III:
Mark IV:

Researching these plans will allow you to develop a Formula of Crushing consumable
Plans: Karmic Hex
Mark I: Mannheim's Chinese Theater challenge (weekly bonus reward)
Mark II:
Mark III:
Mark IV:

Researching these plans will allow you to develop a Karmic Hex consumable
Plans: Mass Provocation Agent
Mark IV:

Researching these plans will allow you to develop a Mass Provocation Agent Consumable consumable
Plans: Mass Shadow Concoction
Mark IV:

Researching these plans will allow you to develop a Mass Shadow Concoction consumable
Plans: Napalm Atomizer
Mark I:
Mark II: The Gatekeeper
Mark III:
Mark IV:

Researching these plans will allow you to develop a Napalm Atomizer consumable
Plans: Personal Dampening Field
Mark I:
Mark II:
Mark III:
Mark IV:

Researching these plans will allow you to develop a Personal Dampening Field consumable
Plans: Polarization Mechanism
Mark I:
Mark II:
Mark III:
Mark IV:

Researching these plans will allow you to develop a Polarization Mechanism consumable
Plans: Provocation Agent
Mark III:

Researching these plans will allow you to develop a Provocation Agent consumable
Plans: Shadow Concoction
Mark III:

Researching these plans will allow you to develop a Shadow Concoction consumable
Plans: Shock Inducer
Mark I:
Mark II:
Mark III:
Mark IV:

Researching these plans will allow you to develop a Shock Inducer consumable
Plans: Static Grenade
Mark I:
Mark II:
Mark III:
Mark IV:

Researching these plans will allow you to develop a Static Grenade consumable