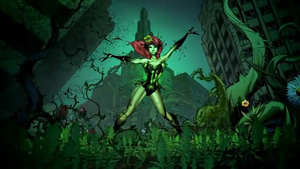 Poison Ivy's Plant Hybrids are plant creatures that are created by Poison Ivy.
Involvements
Edit
Hero players who have Batman as their mentor must fight through Ivy's hybrids in the Otisburg district before entering her hideout within the Giordano Botanical Gardens to aid Robin in capturing her.
Iconics/Bosses

Mobs

Vendors/Taskmasters
Affiliated Allies
Equipment
Edit
Ivy was responsible for helping the Condiment King (Mitchell Mayo) become a much more effective villain, teaching him more about various spices and such to cause anaphylactic shock in his foes.
Ferak is the result of Ivy experimenting with human and plant DNA to create a humanoid plant being. Since her birth shortly before Gotham City's "No Man's Land" eviction, she is often found in Gotham Park. Her skin and nettles are very poisonous and likes eating human flesh.
Ivy once formed a temporary partnership with Magpie (Margaret Pye) after she was apprehended, sent to Arkham Asylum and allocated a shared cell with Ivy. Magpie was later killed by Tally Man along with other members of Penguin's gang, by order of the Great White Shark.