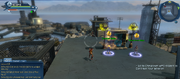 On top of a building just north of the entrance to the docks in
Suicide Slums
.
Mission objectives: Secure Poseidon's Trident to keep it out of evil hands.
Choose your reward: Blade of Deception (One-Handed , Style: Glave Sword) or select the Glyphed Dragonscale Shield (Style: Targe).   See photo for weapon stats.  Note: Have yet to see a picture for the Targe style shield weapon.
Ad blocker interference detected!
Wikia is a free-to-use site that makes money from advertising. We have a modified experience for viewers using ad blockers

Wikia is not accessible if you've made further modifications. Remove the custom ad blocker rule(s) and the page will load as expected.