A R&D Station a.k.a. R&D Workstation is a device with which exobit related research and development can be carried out.
It provides a couple of functionalities such as assembly, salvaging and recovery.
R&D Stations can be found in each of the headquarters' wings and the central safehouses in Gotham and Metropolis. A portable workstation is available as DLC from the marketplace and there is also a model for player bases available.
The assembly tab of a R&D Station lists all R&D plans the player has in possession. For each plan the necessary number of R&D parts and R&D components for construction is shown and once collected exobytes, equipment mods and supply items in the form of consumables can be built.
Salvaging
Edit
Two basic components for the assembly, Simple Material and Complex Materials, can solely be made by salvaging superfluous gear and weapons.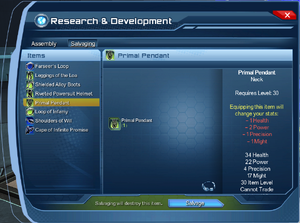 Items which can be salvaged will be listed under this tab. Usually any gear or weapon with an item level higher than 30 will yield the wanted R&D parts, while salvageable items with an item level of 30 will merely produce junk such as Damaged Components.
Gear and weapons with an item level lower than 30 are usually not salvageable.
Game update 25 introduced a third functionality for R&D stations, exobyte recovery.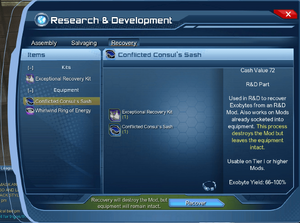 Recovery allows to extract a certain amount of exobytes from modded gear, leaving the gear intact, but unmodded again.
Exobytes can also be recovered from unused equipment mods.
Plans for recovery kits can be bought from R&D vendors, kits then be built at R&D stations. There is also a ready to be used Exceptional Recovery Kit, which drops occasionally.
The Total Recovery Kit is available from the marketplace since game update 36.
Locations
Edit
The appearance of the R&D Stations are based off of The Atom's scientific table in The Watchtower as seen in the Young Justice episode #26: Auld Acquaintance'.