Collect innocent essence to enter the Sentinel Base and steal the Eye of Sin.
Objectives
Edit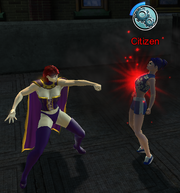 Defeat Sentinel Vanguards and steal their souls (0/5) (575 xp) (level 4)
Rough up civilians in the area and drain essence from the innocent (0/10) (575 xp) (level 4)
Find the Eye of Sin inside the Sentinel of Magic Base
Vanguards are among the stronger sentinel members, being about to knock back and occasionally stun, but still fairly weak.
Cultist Gorge, who starts the Freelance Mission Protection Money, is just opposite the Blood Cultist.
Certain types of citizens always resist draining, and could only be fought. Ignore them and drain others. It appears that those citizens are used instead in Protection Money as "arrogant residents". It is possible that their arrogance prevents their essence from being pure.
To steal the Eye of Sin, the player must transport three flames of containment, one bright red, one dark red and one green, which are found in three side chambers. After transporting all three to their respective spots in the main chamber, interact with them to extinguish them.
The Flames are known as "Artifact Containment Urn" in combat messages.