Reaping Evil is a level 29 mission started automatically upon the completion of Vengeful Spirits.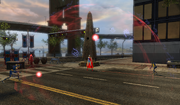 Lure Ranging Spirits to the Sentinels Purification Spheres to collect their Spectral Cores.
Objectives
Edit
"No matter how many of these spirits we banish, the Reapers are creating more. The Sentinels believe we can use the spectral cores of these raging spirits to banish them. Lightkeeper Lee can tell you what they need." — Wonder Woman
Lightkeeper Lee will instruct you on what Sentinels of Magic need to banish Reapers. Speak with her. (1400 xp) (level 27)
When the embattled Accusers become enraged lure them to the Sentinels' Purification Spheres. (0/15)
When the embattled Magistrates become enraged lure them to the Sentinels' Purification Spheres. (0/15)
Upon completion, Here for the Reaping is started.
A drag-towards power like Inescapable Storm for Ice or Vine Lash for Nature would be very useful for this mission. Players may wish to switch to more defensive gear so the spirits won't be defeated before reaching the sphere, and there may be saboteur players.
Sentinel Andersen, who starts the side mission Purify, is west of Lightkeeper Lee.
The County Clerk, who starts the side mission The End is Nigh, is next to Lightkeeper Lee.
Cash: $121
1401 xp upon completion (level 28)
Ad blocker interference detected!
Wikia is a free-to-use site that makes money from advertising. We have a modified experience for viewers using ad blockers

Wikia is not accessible if you've made further modifications. Remove the custom ad blocker rule(s) and the page will load as expected.