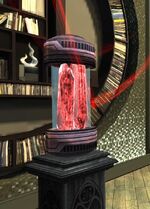 Red Kryptonite is a radioactive element from Superman's home planet of Krypton.
The kryptonite brings out the rebellious and immoral personality of Kryptonians and rids them of their inhibitions. The effects of red kryptonite are likened to that of being under the influence of too much alcohol or narcotics, without the loss of physical capability.
Involvement
Edit
Ad blocker interference detected!
Wikia is a free-to-use site that makes money from advertising. We have a modified experience for viewers using ad blockers

Wikia is not accessible if you've made further modifications. Remove the custom ad blocker rule(s) and the page will load as expected.