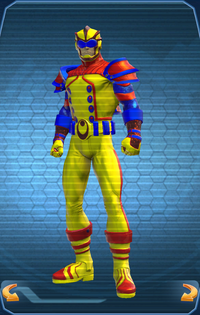 Retro Tech is an Armor Style Set.
Retro Tech (Healer)

Pieces
Drops
Stats
Shoulders
Diego - Bane's Distribution Center
Lvl - 5
Retro Tech (Tank)

Pieces
Drops
Stats
Retro Tech (Controller)

Pieces
Drops
Stats
Retro Tech (Damage)

Pieces
Drops
Stats
Male
Female
Collecting the full style set unlocks the feat Antique Aviator (25 points).
The back piece of the Retro Tech suit emits flames when the player is in flight.
Ad blocker interference detected!
Wikia is a free-to-use site that makes money from advertising. We have a modified experience for viewers using ad blockers

Wikia is not accessible if you've made further modifications. Remove the custom ad blocker rule(s) and the page will load as expected.