Robinson Park
Talk

0
7,249pages on
this wiki
Dedicated in 1784, Robinson Park is the largest park in Gotham City, covering an area of three hundred acres in central Gotham.
Containing a reservoir that feeds from the Finger River, the park features a memorial/dedication site to many of the city's servicemen, such as police, firemen and medical teams, who have helped save the city from some of its many catastrophic events; such as the earthquake and resulting No Man's Land edict, as well as the three-day city-wide gang war.
In-Game History
Edit
In his quest to summon Trigon onto Earth, Brother Blood has captured the Titans and taken them into a lair beneath Robinson Park while summoned demons of the Seven Deadly Sins wreak havoc within the park to build the corrupted energies required to summon the demon.
Circe sends a new villain to assist Blood in his quest, intending to take Trigon's power once he is summoned.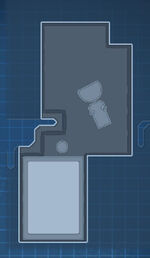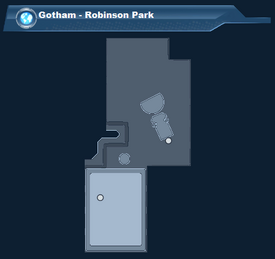 Locations
Edit
Inhabitants
Edit
Robinson Park first appeared in Batman #404 (February 1987).
The Flash can be seen fighting Brother Blood's acolytes in the north-eastern corner of the park.
Poison Ivy took control of the park during the No Man's Land year but was eventually forced out by Batman and the G.C.P.D.
External Links
Edit
Robinson Park DC Database