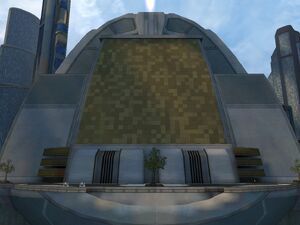 In-Game History
Edit
Deep within the facilty, Brainiac seeks to control experimental devices that will allow him to harness the power source behind the Lantern Corps' Power Rings. This attack throws the Lantern Corps into chaos, and players must join a fragile truce between the Green Lantern Corps and the Sinestro Corps to bring the powerful devices back under S.T.A.R. Labs control.
Involvement
Edit
S.T.A.R. Labs Research Facility, then named STAR Labs Research Facility, is one of the random locations for the Starro: Invasion! alert during the Starro the Conqueror event. Heroes and villains may encounter Controlled Cyborg, Controlled Supergirl, Controlled Superman.
Inhabitants
Edit
Outside
Inside
See: S.T.A.R. Labs Research Facility (Alert)
Ad blocker interference detected!
Wikia is a free-to-use site that makes money from advertising. We have a modified experience for viewers using ad blockers

Wikia is not accessible if you've made further modifications. Remove the custom ad blocker rule(s) and the page will load as expected.