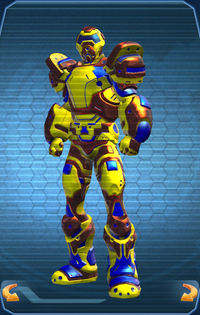 STAR Ex is an Armor Style Set.
Only available from a Doctor Thomas in the Watchtower's Meta Wing. Requires Marks of Victory and Cooperative renown with STAR Labs. 
STAR Ex (Healer)

Pieces
Drops
Stats
The hijacked servitor Is the opposite faction version of this armor
STAR Ex (Tank)

Pieces
Drops
Stats
STAR Ex (Controller)

Pieces
Drops
Stats

Reinforced Plexiderm Chestplate

Light Plexiderm Leggings

Mirrored Flowsteel Helmet

Molded Plexiderm Shoulders

Flowsteel-Injected Power Gauntlets

Slim Flowsteel Belt

Laminated Plexiderm Boots

Enameled Plexiderm Backplate

964 Defence

560 Health

78 Power

102 Precision

386 Might
STAR Ex (Damage)

Pieces
Drops
Stats
Collecting the full style set unlocks the feat Pulsar STAR (25 points).
Ad blocker interference detected!
Wikia is a free-to-use site that makes money from advertising. We have a modified experience for viewers using ad blockers

Wikia is not accessible if you've made further modifications. Remove the custom ad blocker rule(s) and the page will load as expected.