School for Scandal is a level 5 Freelance Mission introduced in Fateful Demise.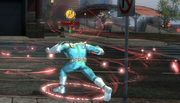 Sabotage the Sentinels as they train new initiates in Chinatown.

Location: 2 blocks South West Mannheim's Chinese Theater on the 2nd floor with a green roof.
Objectives
Edit
Defeat Mentors and curse them (0/3)
Defeat Apprentices for their spellbooks (0/20) (143 xp) (level 4)
After defeating a Mentor, interact with them to curse them. They would awake, attack apprentices, and disappear.
Apprentices are very easy to defeat even at this level, so it shouldn't be too much of a trouble.
Ad blocker interference detected!
Wikia is a free-to-use site that makes money from advertising. We have a modified experience for viewers using ad blockers

Wikia is not accessible if you've made further modifications. Remove the custom ad blocker rule(s) and the page will load as expected.