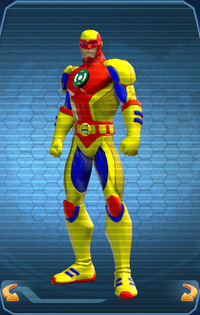 Scion of Ion is a costume style set and an Iconic Battle Suit for heroes only.
Consisting of eight pieces, the set is an advanced PvE (Player versus Environment) gear set inspired by the Green Lantern Corps vestiments and is on sale in Mogo, accessible through the Watchtower.
To obtain this set, it is required that you be at level 30, have a PvE Combat Rating of 84 or above and have the War of the Light Part I episode.
The set is also available as style items from Vending Unit 00 in the Aquacultural Area of the Watchtower.
Color-Schemes
Edit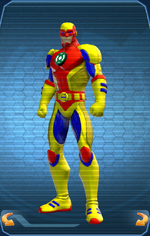 The Scion of Ion's overall color-scheme consists of three colors that can be chosen by the Player in the Style Window. Specific sections of the style's pieces can also be allocated a more specific colour by the Player.
Emblems do not appear on this style.

Emblems always stay their original colour due to copyright reasons.
Mepps coined the term "Fibermesh" to describe the material of the new lantern costumes.
Ad blocker interference detected!
Wikia is a free-to-use site that makes money from advertising. We have a modified experience for viewers using ad blockers

Wikia is not accessible if you've made further modifications. Remove the custom ad blocker rule(s) and the page will load as expected.