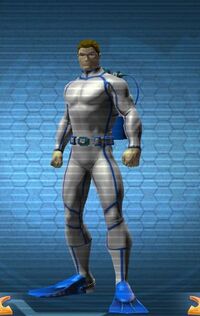 Scuba is an Armor Style Set available in the Marketplace.
Explore the depths in this Scuba suit! This set contains style items for your chest, legs, feet, waist, and back slots.
Scuba

Pieces
Drops
Icons
Scuba Tank
Marketplace
Scuba Flippers
Marketplace
Scuba Leggings
Marketplace
Scuba Chest
Marketplace
Scuba Belt
Marketplace
The Scuba style was released alongside the Floatie style as part of the 2012 Summer Event.
Ad blocker interference detected!
Wikia is a free-to-use site that makes money from advertising. We have a modified experience for viewers using ad blockers

Wikia is not accessible if you've made further modifications. Remove the custom ad blocker rule(s) and the page will load as expected.