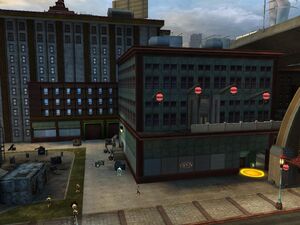 The Sentinels of Magic Citadel is the primary base of operations for the Sentinels of Magic in Metropolis, located within Metropolis Chinatown.
In-Game History
Edit
Seeking to enact the arrival of Trigon, Brother Blood instructs a new Villain to infiltrate the citadel and defeat Doctor Fate and his Ankh of Power to weaken the wards holding Trigon back.
Involvement
Edit
The Sentinels of Magic Citadel, then named Sentinels of Magic Base, is one of the random locations for the Starro: Spreading Spores duo during the Starro the Conqueror event. Heroes and villains encounter Controlled Doctor Fate.
Inhabitants
Edit
Ad blocker interference detected!
Wikia is a free-to-use site that makes money from advertising. We have a modified experience for viewers using ad blockers

Wikia is not accessible if you've made further modifications. Remove the custom ad blocker rule(s) and the page will load as expected.