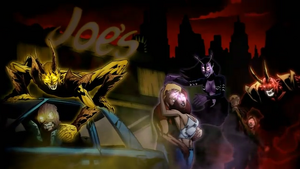 The Seven Deadly Sins is a list of seven of the greatest personality vices known to mankind; Lust, Greed, Gluttony, Sloth, Wrath, Envy, and Pride. Given personification, the Sins create and empower their own legion of demons and manipulate mortals to induldge in their vices, giving the demons more power with which to corrupt them further.
Involvement
Edit
The seven deady sins work as minions for Brother Blood to help raise Trigon.
You battle them to help stop the raising of Trigon.
Allies
Iconic/Bosses

Mobs

Affiliated Allies




Vendors/Taskmasters
Equipment
Edit
While each of her brothers wield the powers of a Sin personified, Raven herself wields the power of Pride but refuses to use it due to her wish to remain uncorrupted.