Ad blocker interference detected!
Wikia is a free-to-use site that makes money from advertising. We have a modified experience for viewers using ad blockers

Wikia is not accessible if you've made further modifications. Remove the custom ad blocker rule(s) and the page will load as expected.
The Shroud of Anubis is an Iconic Battle Suit Style set for Villains. Named for the Egyptian god of death, this shroud bestows the powers of the Egyptian gods upon the wearer.
Consisting of eight pieces, the set is themed after
Black Adam
and is a specialized Tier 1 PvP (
Player versus Player
) set only available from
Felix Faust
in the
Magic Wing
of the
Hall of Doom
.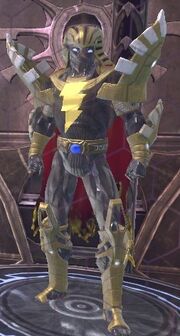 Shroud of Anubis (Damage)
Pieces
Stats
Sockets



Shroud of Anubis (Tank)
Pieces
Stats
Sockets



Shroud of Anubis (Healer)
Pieces
Stats
Sockets



Shroud of Anubis (Controller)
Pieces
Stats
Sockets