Ad blocker interference detected!
Wikia is a free-to-use site that makes money from advertising. We have a modified experience for viewers using ad blockers

Wikia is not accessible if you've made further modifications. Remove the custom ad blocker rule(s) and the page will load as expected.
Please note that some of the information below may not apply to Villains.
This information is from a Hero's feats menu.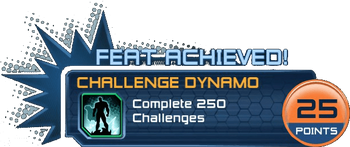 Below is a table showing all of the feats available under Solo Content:  
Solo Feats
Edit
Title
Description
Reward
Difficulty
Fun For All Ages
Complete 10 daily Toyman missions
10 Points
1 Star
And You Have a Date With Death!
Complete 25 daily Toyman missions
10 Points
1 Star
They're Not Dolls, They're Actions Figures
Complete 50 daily Toyman missions
10 Points
1 Star
To Infinity and Beyond
Complete 100 daily Toyman missions
25 Points
2 Stars
Keep Out of Reach of Children
Complete all of the Stryker's Island Toyman Challenges as a hero
10 Points
1 Star
Challenge Rookie
Complete 10 Challenges
10 Points
1 Star
Challenge Expert
Complete 50 Challenges
10 Points
1 Star
Challenge Master
Complete 100 Challenges

10 Points

1 Star
Challenge Dynamo
Complete 250 Challenges
25 Points
2 Stars
Danger Is My Trade
Complete 500 Challenges

Grants title: The Dangerous

50 Points
3 Stars
No Challenge Too Great
Complete all classic Challenge Mode hideouts available to heroes
10 Points
1 Star
Messenger
Compete 10 Missions
10 Points
1 Star
Herald
Complete 25 missions
10 Points
1 Star
Emissary
Complete 50 missions
10 Points
1 Star
Ambassador
Complete 100 mission
25 Points
2 Stars
Harbinger
Complete 250 Missions
50 Points
3 Stars
Determined
Complete any classic game episode-ending playroom without being KO'd
10 Points
1 Star
Iconic Battles
Edit
| | | | | |
| --- | --- | --- | --- | --- |
| Title | Description | Reward | Difficulty | Morality |
| School of Hard Knocks: Giganta | Defeat Giganta without using any consumable items or supercharge abilities | 10 Points | 1 Star | Hero |
| School of Hard Knocks: Wonder Girl | Defeat Wonder Girl without using any consumable items or supercharge abilities | 10 Points | 1 star | Villain |
| School of Hard Knocks: Deathstroke | Defeat Deathstroke without using any consumable items or supercharge abilities | 10 Points | 1 Star | Hero |
| School of Hard Knocks: Power Girl | Defeat Power Girl without using any consumable items or supercharge abilities | 10 Points | 1 Star | Villain |
| School of Hard Knocks: Brother Eye | Defeat Brother Eye without using any consumable items or supercharge abilities | 10 Points | 1 Star | Hero |
| School of Hard Knocks: Scarecrow | Defeat Scarecrow without using any consumable items or supercharge abilities | 10 Points | 1 Star | Hero |
| School of Hard Knocks: Isis | Defeat Isis without using any consumable items or supercharge abilities | 10 Points | 1 Star | Hero |
| School of Hard Knocks: Felix Faust | Defeat Felix Faust without using any consumable items or supercharge abilities | 10 Points | 1 Star | Hero |
| School of Hard Knocks: Brother Blood | Defeat Brother Blood without using any consumable items or supercharge abilities | 10 Points | 1 Star | Hero |
| School of Hard Knocks: Poison Ivy | Defeat Poison Ivy without using any consumable items or supercharge abilities | 10 Points | 1 Star | Hero |
| School of Hard Knocks: Circe | Defeat Circe without using any consumable items or supercharge abilities | 10 Points | 1 Star | Hero |
| School of Hard Knocks: Raven | Defeat Raven without using any consumable items or supercharge abilities | 10 Points | 1 Star | Hero |
| School of Hard Knocks: Sinestro | Defeat Sinestro without using any consumable items or supercharge abilities | 10 Points | 1 Star | Hero |
| School of Hard Knocks: Aquaman | Defeat Aquaman without using any consumable items or supercharge abilities | 10 Points | 1 Star | Villain |
| School of Hard Knocks: Lex Luthor | Defeat Lex Luthor without using any consumable items or supercharge abilities | 10 Points | 1 Star | Hero |
| School of Hard Knocks: Robot Batman | Defeat Robot Batman without using any consumable items or supercharge abilities | 10 Points | 1 Star | Hero |
| School of Hard Knocks: Doctor Psycho | Defeat Doctor Psycho in your final battle without using any consumable items or supercharge abilities | 10 Points | 1 Star | Hero |
| School of Hard Knocks: Harley Quinn | Defeat Harley Quinn without using any consumable items or supercharge abilities | 10 Points | 1 Star | Hero |
| School of Hard Knocks: Robin | Defeat Robin without using any consumable items or supercharge abilities | 10 Points | 1 Star | Villain |
| School of Hard Knocks: Joker | Defeat The Joker without using any consumable items or supercharge abilities | 10 Points | 1 Star | Hero |
| School of Hard Knocks: Gorilla Grodd | Defeat Gorilla Grodd without using any consumable items or supercharge abilities | 10 Points | 1 Star | Hero |
| School of Hard Knocks: Queen Bee | Defeat Queen Bee without using any consumable items or supercharge abilities | 10 Points | 1 Star | Hero |
| School of Hard Knocks: Bane | Defeat Bane without using any consumable items or supercharge abilities | 10 Points | 1 Star | Both |
| Killer Frost Falls! | Defeat Killer Frost in Gotham's Otisburg Neighbourhood | 10 Points | 1 Star | Hero |
| General Kordax Falls! | Defeat General Kordax in Metropolis's Suicide Slums | 10 Points | 1 Star | Hero |
| Bizarro Falls! | Defeat Bizarro at the Metro General Hospital in Little Bohemia | 10 Points | 1 Star | Hero |
| Nepheritos Falls! | Defeat Nepheritos in Gotham's Burnley Neighbourhood | 10 Points | 1 Star | Hero |
| The Judge Falls! | Defeat The Judge in Downtown Metropolis | 10 Points | 1 Star | Hero |
| Clayface Clobbered! | Defeat Clayface in Gotham's Otisburg Neighbourhood | 10 Points | 1 Star | Hero |
| Arkillo Falls! | Defeat Arkillo in the Metropolis Historic District | 10 Points | 1 Star | Hero |
| Avatar of Sin Falls! | Defeat the Avatar of Sin in Midtown Metropolis | 10 Points | 1 Star | Hero |
| Minotaur Falls! | Defeat Minotaur in the Tomorrow District of Metropolis | 10 Points | 1 Star | Hero |
| Solomon Grudy Falls! | Defeat Solomon Grundy in Gotham's Otisburg Neighbourhood | 10 Points | 1 Star | Hero |
| Full House Falls! | Defeat Full House near Gotham's Amusement Mile | 10 Points | 1 Star | Both |
| | | | |
| --- | --- | --- | --- |
| Title | Description | Reward | Difficulty |
| An Eye for Survival | Complete the OMAC Base without being KO'd | 10 Points | 1 Star |
| The Unyielding | Complete The Oblivion Bar without being KO'd | 10 Points | 1 Star |
| Too Cool for School | Complete Metropolis without being KO'd | 10 Points | 1 Star |
| The Power to Survive | Complete Gotham STAR Labs without being KO'd | 10 Points | 1 Star |
| Touch of the Immortals | Complete Gotham University Without being KO'd | 10 Points | 1 Star |
| Making a Splash | Complete the condemned shipyards without being KO'D | 10 Points | 1 Star |
| The Will to Live | Complete the Metropolis City Hall without being KO'd | 10 Points | 1 Star |
| Resistance to Her Charm | Complete the Greenhouse without being KO'd | 10 Points | 1 Star |
| We will Not Falter | Complete the Chinatown Cafe without being KO'd | 10 Points | 1 Star |
| STAR Power | Complete the Star Labs without being KO'd | 10 Points | 1 Star |
| Unflappable | Complete the Regal Hotel without being KO'd | 10 Points | 1 Star |
| Ain't Going Down | Complete the Gotham Sewers without being KO'd | 10 Points | 1 Star |
| Surviving Patient | Complete Metro General Hospital without being KO'd | 10 Points | 1 Star |
| Good Deal | Complete Mannheim's Chinese Theatre without being KO'd | 10 Points | 1 Star |
| Fun Times | Complete the Amusement Mile without being KO'd | 10 Points | 1 Star |
| It's Not Judgment Time Yet | Complete the Lair of the Spectre without being KO'd | 10 Points | 1 Star |
| Staying Power | Complete the Hall of Doom without being KO'd | 10 Points | 1 Star |
| Evading Death...Stroke | Complete the Monarchs Playing Card Factory without being KO'd | 10 Points | 1 Star |
| Heroes with the Might of Magic | Complete Ellsworth Hospital without being KO'd | 10 Points | 1 Star |
| Arcane Luck | Complete the MPD 8th Precinct without being KO'd | 10 Points | 1 Star |
| A Wonderful Performance (Heroes) | Complete the Metro Station Building without being KO'd | 10 Points | 1 Star |
| A Gigantic Accomplishment (Villains | Complete the Metro Station Building without being KO'd | 10 Point | 1 Star |
| Unstung Heroes | Complete the HIVE Base without being KO'd | 10 Points | 1 Star |
| Viva Los Heroes | Complete Cape Carmine Lighthouse without being KO'd | 10 Points | 1 Star |
| No Monkeying Around | Complete Grodd's Lair in Metropolis without being KO'd | 10 Points | 1 Star |
| By Her Will | Complete the Sentinels of Magic Base solo without being KO'd | 10 Points | 1 Star |
| | | | |
| --- | --- | --- | --- |
| Title | Description | Reward | Difficulty |
| Now You See Me... | Disable all security cameras and consoles inside Metropolis University. | 10 Points | 1 Star |
| Pop Quiz, Hotshot! | Diffuse the bombs before the police officers die in Regal Hotel. | 10 Points | 1 Star |
| Detox | Destroy all Venom cannisters in Burnley Warehouse. | 10 Points | 1 Star |
| Yoink! | Destroy all Venom cannisters in Burnley Warehouse. | 10 Points | 1 Star |
| On Your Feet! | Revive all the defeated Amazons in Circe's Hidden Base. | 10 Points | 1 Star |
| Green Machine | Incinerate dangerous bio-hazardous materials strewn around Metro General Hospital. | 10 Points | 1 Star |
| Fire Sale | Extinguish all of the magical flames in the Chinatown magic shop. | 10 Points | 1 Star |
| Counselor | Break Circe's control over the bewitched Amazons in Circe's Citadel. | 10 Points | 1 Star |
| Gate Crasher | Open the gate to Scarecrow's inner lair within 3 minutes of entering the sewers. | 10 Points | 1 Star |
| Brute Force | Complete the adventure in STAR's secret lab without activating any turrets. | 10 Points | 1 Star |
| Leader of the Pride | Save all Lion Cubs in the Gotham University Warehouse. | 10 Points | 1 Star |
| Quick Crags | Secure 14 crags in the Shadowlands in 100 seconds or less. | 10 Points | 1 Star |
| Single Minded | Defeat the Overlord in the Hall of Doom without defeating his robots. | 10 Points | 1 Star |
| Pain in the Brainiac | Defeat 50 of Brainiac's robots on the STAR Lab satellite. | 10 Points | 1 Star |
| Fumigator | Secure the 4 pressure valves in 80 seconds or under in the Gotham University Warehouse. | 10 Points | 1 Star |
| Eye Blinked | Defeat Brother Eye underneath Gotham's Knightsdome Sporting Complex without knocking out his guardian drones. | 10 Points | 1 Star |
| Re-Evolver | Free all the civilians in Gorilla Grodd's hideout from the devolution process. | 10 Points | 1 Star |
| The Androids You're Looking For | Defeat 25 of T.O.Morrow's Androids in T.O.Morrow's Lab. | 10 Points | 1 Star |
| Brain Intact | Make it through the waves of zombies in the Tomb of Isis. | 10 Points | 1 Star |
| Shadow-Packed | Defeat 30 Ghosts in the Glenmorgan Square Office Building. | 10 Points | 1 Star |
| Emancipator | Rescue all of the enslaved citizens from the Condemned Shipyards. | 10 Points | 1 Star |
| Spy Smasher | Arrest all of the LexCorp SpecOps who infiltrated the HIVE Metrodome. | 10 Points | 1 Star |
| Soul Saver | Smash all the soul globes in Mannheim's Chinese Theatre. | 10 Points | 1 Star |
| Out of Service | Stop the disabled J1N1 from reactivating inside the Monarch Playing Card Company. | 10 Points | 1 Star |
| Staunching the Flow | Destroy 15 blood vats located throughout Ellsworth Memorial Hospital. | 10 Points | 1 Star |
| Lead from the Front | Defeat the Manhunter in City Hall while all allies are still in the fight. | 10 Points | 1 Star |
| Peas Officer | Free all of the GPCD officer's from Poison Ivy's pods underneath the Botanical Gardens. | 10 Points | 1 Star |
| No More Funny Business | Defeat 30 Joker Clowns in the Amusement Mile Funhouse. | 10 Points | 1 Star |
| Mr. J's Special BBQ Recipe | Set 30 Police Officers in fire in the Amusement Mile Funhouse.  | 10 Points | 1 Star |
| Blue Christmas | Free 12 of the SCU troops trapped in SCU Police Station. | 10 Points | 1 Star |
| Sin No more | Defeat all of Trigon's sin demons in the Science Police Headquarters. | 10 Points | 1 Star |
| Smashing Science | Defeat 30 Science Police Officers in the Science Police Headquarters. | 10 Points | 1 Star |
| Beast Basher | Defeat 60 of the Beastiamorphs in the Metro Station. | 10 Points | 1 Star |
| Taking Out The Laundering | Collect all of Intergang's Counterfeit Money in their Warehouse. | 10 Points | 1 Star |
| Lights Out in the Lighthouse | Defeat all enemies and destroy all Venom canisters in the Lighthouse up to Bane. | 10 Points | 1 Star |
The following quests must be completed for each solo content contacts achievement:
In the Mist - 2 Star - 25 Points

A Family Affair - 2 Stars - 25 Points
Beauties and the Beasts - 2 Stars - 25 Points
Phoenix Initiate - 2 Stars - 25 Points
Power Ring Master - 2 Stars - 25 Points

Meta-ticulous - 2 Stars - 25 Points

Committed - 2 Stars - 25 Points
Oh, I Get It - 2 Stars - 25 Points
The End of the Beginning - 2 Stars - 25 Points
Walked the Beat - 2 Stars - 25 Points
---
Exploration
Edit
Title
Reward
Description
Difficulty
Explore the Hall of Doom (Villains Only)
(10 Feat Points)
Explore the Hall of Doom
 
Club Kids (Villains Only)
(25 Feat Points)
Visit each of the Classic Nightclubs
 
Explore Gotham
(50 Feat Points)
Explore all of Gotham's districts
 
Intrepid Explorer
(50 Feat Points)
Explore every Gotham/Metropolis district, as well as all Alerts/Raids in the classic game
 
Explore Metropolis
(50 Feat Points)
Explore all Metropolis districts
 
Explore the Alerts
(50 Feat Points)
Explore all alerts in the classic game
 
Explore the Historic District
(10 Feat Points)
Explore the Historic District in Metropolis
 
Explore the Tomorrow District
(10 Feat Points)
Explore the Tomorrow District in Metropolis
 
Explore Metropolis Chinatown
(10 Feat Points)
Explore Chinatown in Metropolis
 
Man of Stone
(10 Feat Points)
Visit the Superman Memorial Statue in Centennial Park
 
View from the Top
(10 Feat Points)
Visit the highest point of LexCorp Tower
 
Explore Midtown Metropolis
(10 Feat Points)
Explore the Midtown District in Metropolis
 
Visit Stryker's Island
(10 Feat Points)
Visit Stryker's Island in Metropolis
 
Explore Suicide Slums
(10 Feat Points)
Explore the Suicide Slums district in Metropolis
 
Explore Downtown Metropolis
(10 Feat Points)
Explore the Downtown district in Metropolis
 
On Top of the World
(10 Feat Points)
Visit the highest point of the Daily Planet
 
Explore Little Bohemia
(10 Feat Points)
Explore Little Bohemia in Metropolis
 
Explore Arkham Island
(10 Feat Points)
Explore Arkham Island in Gotham
 
Explore Robinson Park
(10 Feat Points)
Explore Robinson Park in Gotham
 
Explore the Otisburg District
(10 Feat Points)
Explore the Otisburg district in Gotham
 
Explore the Burnley District
(10 Feat Points)
Explore the Burnley district in Gotham
 
Explore the East End
(10 Feat Points)
Explore Gotham's East End
 
Explore Old Gotham
(10 Feat Points)
Explore the Old Gotham District
 
Explore the Diamond District
(10 Feat Points)
Explore the Diamond district in Gotham
 
Explore Gotham Chinatown
(10 Feat Points)
Explore Gotham's Chinatown district
 
Visit the Wayne Memorial
(10 Feat Points)
Visit the Wayne Memorial in Crime Alley
 
Find the Bat-Signal
(10 Feat Points)
Find the Bat-Signal in East End Gotham
 
Explore the HIVE Moon Site
(10 Feat Points)
Explore the HIVE dig site on the Moon
 
Explore Area 51
(10 Feat Points)
Explore key areas of the Area 51 complex
 
 
Explore Gorilla Island
(10 Feat Points)
Explore the shipwreck and environs on Gorilla Island
 
Explore Oolong Island
(10 Feat Points)
Explore the enclave of Oolong Island
 
| | | |
| --- | --- | --- |
| Title | Reward | Description |
| Otherworldly | (25 Feat Points) | Collect all styles in the Fourth World Set |
| The Immutable | (25 Feat Points) | Collect all styles in the Eternal set |
| Incurably Insane | (25 Feat Points) | Collect all styles in the Bulwark of Madness set |
| Pulse STAR | (25 Feat Points) | Collect all styles in the STAR Ex set |
| Dimensional Traveler | (25 Feat Points) | Collect all styles in the Zonewalker set |
| Anubis Ascendant | (25 Feat Points) | Collect all styles in the Egyptian Sorcerer set |
| On Metal Wings | (25 Feat Points) | Collect all styles in the Winged Fury set |
| Avian Assassin | (25 Feat Points) | Collect all styles in the Raptor Tech set |
| Nobody's Fool | (25 Feat Points) | Collect all styles in the Jester set |
| Shaken, Not Stirred | (10 Feat Points) | Collect all styles in the formal set |
| Go Go Gadgeteer | (25 Feat Points) | Collect all styles in the Gadgeteer set |
| Guise of the Enemy | (25 Feat Points) | Collect all styles in the Hijacked Servitor set |
| Utterly Divine | (25 Feat Points) | Collect all styles in the Divine set |
| Shadows in the Night | (25 Feat Points) | Collect all styles in the Blood Bat set |
| Under the Sea | (25 Feat Points) | Collect all styles in the Remora set |
| Dressed for the Streets | (25 Feat Points) | Collect all styles in the Street set |
| Bone Daddy | (25 Feat Points) | Collect all styles in the Necromancer set |
| A New Classic | (25 Feat Points) | Collect all styles in the New Genesis set |
| Expeditionary Force Leader | (25 Feat Points) | Collect all styles in the Paramilitary set |
| Green Thumb | (25 Feat Points) | Collect all styles in the Plant set |
| Difference Engine Designed | (25 Feat Points) | Collect all styles in the Steampunk set |
| Bug Off | (25 Feat Points) | Collect all styles in the Insectoid set |
| Good Mojo | (25 Feat Points) | Collect all styles in the Voodoo set |
| Boot to the Head | (25 Feat Points) | Collect all styles in the Tech Ninja set |
| Merlin's Tailor | (25 Feat Points) | Collect all styles in the Wizardly set |
| Mystically Masked | (25 Feat Points) | Collect all styles in the Kabuki set |
| Praetorian Elite | (25 Feat Points) | Collect all styles in the Greco-Roman set |
| Bio Booster | (25 Feat Points) | Collect all styles in the Biomech set |
| Dress like an Egyptian | (25 Feat Points) | Collect all styles in the Egyptian set |
| Under the Spotlight | (25 Feat Points) | Collect all styles in the Dresden 7 set |
| Cyber-Reinforced | (25 Feat Points) | Collect all styles in the Talon Lord set |
| Like an Eagle | (25 Feat Points) | Collect all styles in the Talon Lord set |
| Scion of Skartaris | (25 Feat Points) | Collect all styles in the Barbarian set |
| Get out on the Highway | (25 Feat Points) | Collect all styles in the Biker set |
| Hellstalker of Dis | (25 Feat Points) | Collect all styles in the Demonic set |
| Master of the Hege | (25 Feat Points) | Collect all styles in the Druid set |
| Looking like Six Million Bucks | (25 Feat Points) | Collect all styles in the Contemporary Tech set |
| Military Grade | (25 Feat Points) | Collect all styles in the Military Tech set |
| Galactic Sentinel | (25 Feat Points) | Collect all styles in the Alien Tech set |
| Am I here to Amuse you? | (25 Feat Points) | Collect all styles in the Psycho set |
| Antique Aviator | (25 Feat Points) | Collect all styles in the Retro Tech set |
| Secret Secret, I've got a secret | (25 Feat Points) | Collect all styles in the Robotic set |
| Ready for Class | (25 Feat Points) | Collect all styles in the Schoolyard set |
| Man or Machine | (25 Feat Points) | Collect all styles in the Shielded Robot set |
| Staying Frosty | (25 Feat Points) | Collect all styles in the Antifreeze set |
| Scaled Armor | (25 Feat Points) | Collect all styles in the snake set |
| Man in Tights | (25 Feat Points) | Collect all styles in the Archer set |
| Dressed to Kill | (50 Feat Points) | Collect a complete iconic PvP battlesuit |
| True Colors | (50 Feat Points) | Collect a complete iconic PvE battlesuit |
| Kryptonian Defender | (50 Feat Points) | Collect all styles in the House of El Warsuit set |
| Thanagarian Vindicator | (50 Feat Points) | Collect all styles in the Nth-Metal Battlesuit set |
| One with the Speed Force | (50 Feat Points) | Collect all styles of the Speed-Force Spectrum set |
| Heart of Kryptonite | (50 Feat Points) | Collect all styles in the Metallo's Maw Set |
| LexCorp Warbringer | (50 Feat Points) | Collect all styles of the LexCorp Salvation set |
| Kneel Before Zod! | (50 Feat Points) | Collect all styles of the Phantom Zone Reaver set |