Spec Ops is an Armor Style Set that drops in the Shady Nightclub duo for heroes and the Police Station duo for villains, available only if the player has the Last Laugh DLC pack enabled
Spec Ops (Healer)

Pieces
Drops
Stats
Spec Ops (Tank)

Pieces
Drops
Stats
Spec Ops (Controller)

Pieces
Drops
Stats
Spec Ops (Damage)

Pieces
Drops
Stats
Color-Schemes
Edit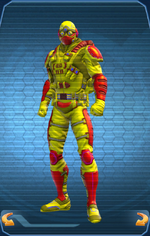 The Spec Ops' overall color-scheme consists of three colors that can be chosen by the Player in the Style Window. Specific sections of the style's pieces can also be allocated a more specific colour by the Player.
Emblems do not appear on this style.

The Feat name for collecting the full style is probably a reference to Mission Impossible, which is a tv/film series based on stealth and special operations.