Ad blocker interference detected!
Wikia is a free-to-use site that makes money from advertising. We have a modified experience for viewers using ad blockers

Wikia is not accessible if you've made further modifications. Remove the custom ad blocker rule(s) and the page will load as expected.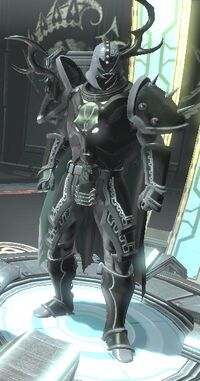 The Spirit of the Stag is an Iconic Battle Suit Style set that requires a Combat Rating of 70.
Consisting of eight pieces, the set is themed after the appearance of the Stag and is a specialized Tier 4 PvE (Player versus Environment) set only available from the Amazon in the Magic Wing of the JLA Watchtower and the of the Hall of Doom.

The price for the whole set is 5476 Cash and 50,000 Marks of Triumph.
All pieces on sale have a Item Level of 78.
Spirit of the Stag (Damage)

Pieces
Price
Stats (Total)

Aggressive Helm of the Stag (Head)
Aggressive Cape of the Stag (Back)
Aggressive Shoulderplates of the Stag
Aggressive Chestplate of the Stag (Chest)
Aggressive Gauntlets of the Stag (Hands)
Aggressive Girdle of the Stag (Belt)
Aggressive Legplates of the Stag (Legs)
Aggressive Greaves of the Stag (Feet)
Spirit of the Stag (Controller)

Pieces
Price
Stats (Total)

Helm of the Mystic Stag (Head)
Shoulders of the Mystic Stag (Shoulders)
Cloak of the Mystic Stag (Back)
Breastplate of the Mystic Stag (Chest)
Gloves of the Mystic Stag (Hands)
Waistband of the Mystic Stag (Belt)
Legguards of the Mystic Stag (Legs)
Boots of the Mystic Stag (Feet)
Spirit of the Stag (Healer)

Pieces
Price
Stats (Total)

Stag's Helm of Restoration (Head)
Stag's Pauldrons of Restoration (Shoulder)
Stag's Cape of Restoration (Back)
Stag's Breastplate of Restoration (Chest)
Stag's Gloves of Restoration (Hands)
Stag's Belt of Restoration (Belt)
Stag's Legguards of Restoration (Legs)
Stag's Boots of Restoration (Feet)
Spirit of the Stag (Tank)

Pieces
Price
Stats (Total)

Helm of the Resilient Stag (Head)
Shoulderplates of the Resilient Stag
Cape of the Resilient Stag (Back)
Breastplate of the Resilient Stag (Chest)
Gauntlets of the Resilient Stag (Hands)
Girdle of the Resilient Stag (Belt)
Legplates of the Resilient Stag (Legs)
Boots of the Resilient Stag (Feet)