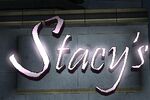 Stacy's is a North American chain of mid-to-high range department stores headquartered in throughout the country. Its selection of clothing merchandise can vary significantly from location to location, resulting in the exclusive availability of certain brands in only higher end stores. In addition to its New York flagship store, the company has designated additional regional flagships in several other major urban centers, including Metropolis.
The company produces the annual Stacy's Thanksgiving Day Parade, a well known parade which is held on the streets of New York City annually.
In-game Involvement
Edit
Appearing throughout Metropolis and Gotham City are billboards advertising the company, as well as Stacy's stores appearing in the Cain Street Mall in Metropolis and near the Giordano Botanical Gardens in Gotham.

Stacy's is presumably the DC comics rendition of the real-world U.S. store, Macy's.
Ad blocker interference detected!
Wikia is a free-to-use site that makes money from advertising. We have a modified experience for viewers using ad blockers

Wikia is not accessible if you've made further modifications. Remove the custom ad blocker rule(s) and the page will load as expected.