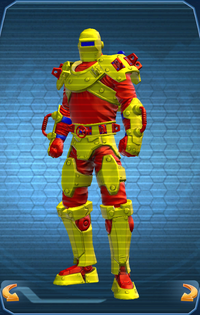 The Steelworker is a Costume Style Set for heroes and villains.
Consisting of eight pieces, the set is themed after the protective uniform suits of the Steelworks workers.
This set has Item Level 74 and is obtained as reward for doing the Oolong Siege Robot bounty (heroes) or the Breaking Steel mission (villains) of the Home Turf episode. A minimum PvE combat rating of 70 or above and the Home Turf episode are pre-requisite of obtaining this gear.
Steelworker (Damage)

Pieces
Obtainment
Steelworker (Controller)

Pieces
Obtainment
Steelworker (Healer)

Pieces
Obtainment
Steelworker (Tank)

Pieces
Obtainment
Color-Schemes
Edit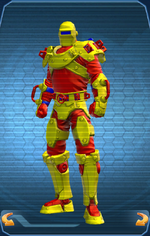 The Steelworker's overall color-scheme consists of three colors that can be chosen by the Player in the Style Window. Specific sections of the style's pieces can also be allocated a more specific colour by the Player.
Emblems do not appear on this style.