Ad blocker interference detected!
Wikia is a free-to-use site that makes money from advertising. We have a modified experience for viewers using ad blockers

Wikia is not accessible if you've made further modifications. Remove the custom ad blocker rule(s) and the page will load as expected.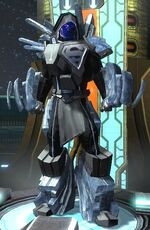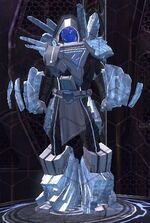 The Sunstone Bulwark is an Iconic Battle Suit Style set for Tanks. Created and infused with Sunstone Crystal technology, the set for heroes possesses the family crest of El while the set for villains possesses the family crest of Zod.
Consisting of eight pieces, the specialized Tier 3 PvE (Player versus Environment) set is available from Supergirl and Non in the Meta Wings of the JLA Watchtower and the Hall of Doom respectively.
The price for the whole set is : 3891 Cash, 10,000 Marks of Triumph
All pieces on sale have an Item Level of 70.
Sunstone Bulwark

Pieces
Price
Stats
Chest
1500 Marks of Triumph, $631

Defense: 451

Health: 277

Precision: 12

Might: 41

Dominance: 23

R&D:

Yellow Socket

Affinity: 7 Dominance

Legs
1500 Marks of Triumph, $578

Defense: 429

Health: 277

Precision: 12

Might:41

Dominance: 23

R&D:

Yellow Socket

Affinity: 29 Health

Head
1375 Marks of Triumph, $526

Defense: 398

Health: 254

Precision: 11

Might:37

Dominance: 21

R&D:

Red Socket

Affinity: 29 Health

Shoulders
1125 Marks of Triumph, $526

Defense: 377

Health: 209

Precision: 9

Might:31

Dominance: 17

R&D:

Red Socket

Affinity 29 Health

Hands
1125 Marks of Triumph, $421

Defense: 312

Health: 162

Precision: 7

Might: 24

Dominance: 13

R&D:

Blue Socket

Affinity: 35 Power

Waist
1125 Marks of Triumph, $368

Defense: 291

Health: 162

Precision: 7

Might: 24

Dominance: 13

R&D:

Blue Socket

Affinity 7 Dominance

Feet
1125 Marks of Triumph, $473

Defense: 334 Defense

Health: 162 Health

Precision: 7

Might: 24

Dominance: 13

R&D:

Blue Socket

Affinity 35 Power

Back
1000 Marks of Triumph, $368

Defense: 301

Health: 185

Precision: 8

Might: 27

Dominance: 15

R&D:

Blue Socket

Affinity 35 Power

Total
10,000 Marks of Triumph, 3891

Defense: 3194

Health: 1688

Precision: 73

Might: 249

Dominance: 138

R&D:

2x Yellow Socket

2x Red Socket

4x Blue Socket