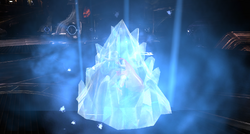 Supercharge
builds while performing weapon attacks and increases with each hit level on the hit counter. The Supercharge level persists while changing PVE zones but resets when entering
PVP arenas
or logging out and back in. It is used to unleash extremely effective
powers
. The Supercharge level is indicated by a yellow-red bar under the player's blue power bar. A Supercharge ability will have a circle around it indicating the amount of charge needed before it is available. The Supercharge level will build at level 1, but players do not gain access to any supercharge abilities until level 8.
Normally the maximum of supercharge held is 10000. Extended Super Charge Tactical Mod increases the maximum Supercharge pool.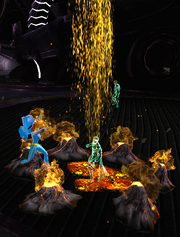 List of Supercharge Abilities
Edit
Supercharge Generator Powers
Edit
A Supercharge Generator power builds a large amount of Supercharge for the Supercharge bar (estimated 180 per cast, or a bit over 1/56 of the full bar per cast).