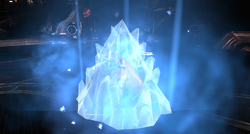 Supercharge
builds while performing weapon attacks and increases with each hit level on the hit counter as well as from orange restoration
barrels
. The Supercharge level persists while changing PVE zones but resets when entering
PVP arenas
or logging out and back in. It is used to unleash extremely effective
powers
and imbues certain
weapon combos
with additional benefits when it is at 100%. The Supercharge level is indicated by a yellow-red bar under the player's blue power bar. A Supercharge ability will have a circle around it indicating the amount of charge needed before it is available. The Supercharge level will build at level 1, but players do not gain access to any supercharge abilities until level 8. However, it is still beneficial as many weapon attacks gain extra damage and knockback when supercharge is at maximum.
The Extended Super Charge Tactical Mod increases the maximum Supercharge pool by 350. This is equivalent to 35% Supercharge.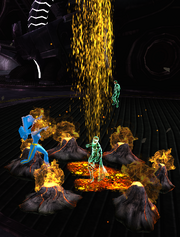 List of Supercharge Abilities
Edit
Ad blocker interference detected!
Wikia is a free-to-use site that makes money from advertising. We have a modified experience for viewers using ad blockers

Wikia is not accessible if you've made further modifications. Remove the custom ad blocker rule(s) and the page will load as expected.