Swamp Thing (Alec Holland)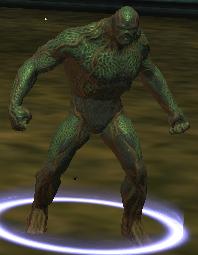 ---
| | |
| --- | --- |
| Title | The Swamp Thing |
| Faction | Heroes |
| Gender | Male |
| Race | Genetically Enhanced Human |
---
Abilities
---
Background
Edit
Alec Holland was a famed botanist working on a chemical to increase plant growth and durability, but a rival chemical company sent mobsters to force him to stop his research in his remote, swamp research cabin. When Holland refused, the mobsters planted dynamite in his laboratory. The resulting explosion killed Holland's wife instantly, though Holland was soaked in his experimental chemical and hurtled, burning, into the swamp. Days later, he arose, no longer Alec Holland, but now the Swamp Thing, a plant being, and avatar of nature itself.
Involvement
Edit
Swamp Thing is a part of the Update 3 Special Event. As a hero, you will work with him to stop Poison Ivy from taking over Gotham City's vegetation.
During the Spring Seasonal event, the hero must fight Swamp Thing to cure him of Poison Ivy's poison.
During the Spring Seasonal event, Villains need to fight him to save Poison Ivy's plan from ruin.
The Swamp Thing is the last boss for Villains in the Tier 4 Seeds of Rot Operation from the Hand of Fate DLC.
The Swamp Thing first appeared in House of Secrets #92 (July 1971)
The Swamp Thing's voice is provided by voice actor Chilimbwe Washington.
External links
Edit