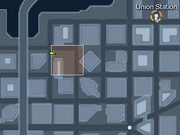 The End is Nigh is a level 27 hero mission started by talking to the County Clerk in the north area of Downtown Metropolis, near the bridge that goes north to the sea. He's under a motorway bridge that turns round corner close to buildings.
Bring peace to spirits for the county clerk.
Objectives
Edit
Bring Peace to Raging Spirits (0/10) (499 xp) (level 27)
Ad blocker interference detected!
Wikia is a free-to-use site that makes money from advertising. We have a modified experience for viewers using ad blockers

Wikia is not accessible if you've made further modifications. Remove the custom ad blocker rule(s) and the page will load as expected.