The Witching Hour is a Halloween-themed seasonal event that occurs throughout the month of October. It replaced the Spooktacular event.
The event showcases Halloween throughout Gotham City and features Halloween-themed items and unique missions and locations for the Player Character to explore.
Characters
Edit
Locations
Edit
Main article: Seasonal Feats
Collections and Investigations
Edit
See 2012.
See 2012 and 2013.
See 2012, 2013 and 2014.
Seasonal Items
Edit
Completing this mission awards 2 Spooky Bite daily with three more from The Midnight Masquerade, which can be used to purchase the following items:
Main article: Skeets' Boo'tique
Completing the The Midnight Masquerade instance awards the player a random Trick or Treat consumable:
Other seasonal items:
Baby Boo, Prize Pumpkin, High Market Buckled Boots, Witch Hat, Boo-tility Belt, Ghostly Aura
Seasonal themed base items: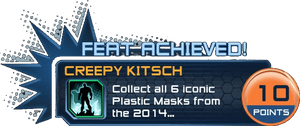 The first appearance of this event in 2011, which featured only special items and a beginner-level instance with increased difficulty, was so badly received that SOE revised and restructured the entire event for its next release in 2012.
Due to massive log in server issues around the time of the then called Spooktacular in 2011, the event was officially extended a week until November 14th to give players a chance to get the trinkets and items.