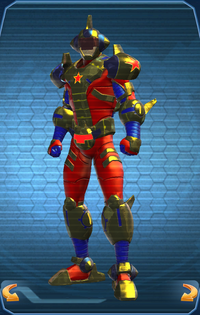 The Time Traveler is a Costume Style Set only available with the Origin Crisis DLC.
Consisting of eight pieces, the set is themed after the futuristic uniform of Booster Gold.
Time Traveler (Healer)

Pieces
Obtainment
Time Traveler (Tank)

Pieces
Obtainment
Time Traveler (Controller)

Pieces
Obtainment
Time Traveler (Damage)

Pieces
Obtainment
Shoulderpads of the 25th Century
Test Subject #1 Last Boss
Color-Schemes
Edit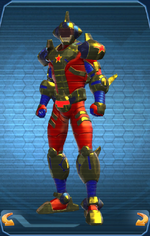 The Time Traveler's overall color-scheme consists of three colors that can be chosen by the Player in the Style Window. Specific sections of the style's pieces can also be allocated a more specific colour by the Player.

Ad blocker interference detected!
Wikia is a free-to-use site that makes money from advertising. We have a modified experience for viewers using ad blockers

Wikia is not accessible if you've made further modifications. Remove the custom ad blocker rule(s) and the page will load as expected.