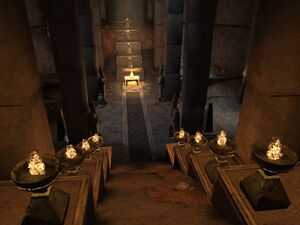 Tomb of Isis
In-Game History
Edit
Felix Faust has invaded Gotham University's Kahndaq egyptian exhibit and begun sucking the souls of the university faculty and students all in the aid of helping Black Adam ressurect his wife Isis.
Wonder Woman sends a new hero nto the beseiged facility to disrupt Faust's magic and stop the ressurection before Faust unleashes a zombie apocalypse.
Locations and Inhabitants
Edit
Ad blocker interference detected!
Wikia is a free-to-use site that makes money from advertising. We have a modified experience for viewers using ad blockers

Wikia is not accessible if you've made further modifications. Remove the custom ad blocker rule(s) and the page will load as expected.