Two-Face
Talk

0
4,070pages on
this wiki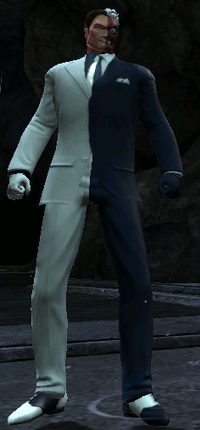 ---
---
Abilities
---
Harvey Dent was a promising, respected District Attorney for Gotham City; famed for his pleasant public face and his rigidly stern stand against corruption.

Allying himself with the Batman and GCPD Commissioner James Gordon, Dent weeded out the corrupt officials in Gotham's businesses until an attack by Sal Maroni during a court appearance left him facially disfigured and mentally warped.
Background
Edit
Childhood abuse fractured Dent's psyche, leaving the District Attorney subconsciously sublimating a darker and more violent persona as an adult.
Once Batman's ally in justice, Dent's evil side reared its head when gangster Sal Maroni hurled acid in the D.A.'s face during Sal Maroni's trial. As the left side of his face dissolved, so too did his mental walls keeping his dark persona in check. Now forever wrestling between good and evil personalities, Dent uses a two-headed coin to determine whether justice prevails, or chaos reigns.
Combat Statistics
Edit
Involvement
Edit
External links
Edit