ShadowsTwilight/Characters
Talk

0
8,405pages on
this wiki
WARNING: Contains spoilers for Grey Area (pretending, of course, that you give a damn)
It started with a flash in the sky and ripple through the clouds. After that day, everything changed....
Monokrome
Edit
Monokrome (Richard Grare)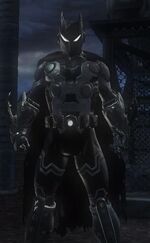 ---
---
Abilities
---
Richard Grare was a cop in the Gotham City Police Department when the Braniac's invasion hit. Wanting nothing more than to protect the ones he cared about, Grare always put himself on the front lines to battle the alien's forces. When the Alternate Luthor released the exobytes into Earth's atmosphere, Grare found his very mind acting as a weapon of it's own. Grasping at the opportunity fate had bestowed to him, Grare took the costumed identity of Monokrome, and now uses his newfound abilities to battle both Brainiac and the new Villains who infest Gotham.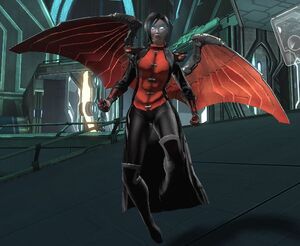 ---
| | |
| --- | --- |
| Title | Sachel, Archangel Sachel, the Darchangel, the Angel of Tech |
| Faction | Heroes |
| Gender | Female |
| Race | Angel |
| Location | Metropolis |
---
Abilities
---
Sachel was a fallen Angel who was cast out of Heaven for crimes against humanity. After living amongst the humans for over 5000 years and going under the name of Kristin Church (a play on Christian Church), Sachel gained both the humility required to feel remorse for her actions, and genius-level intelligence in human technology. When Brainiac's invasion force came to Earth, her old friend and mentor Archangel Gabriel gave her the chance to prove herself by fighting the alien force and the corrupted exobyte victims that came with him. Using her Angelic powers and technological genius, Sachel now does all she can to fight Brainiac and regain her position in Heaven.
Archdemon Beelzebub
Edit
Archdemon Beelzebub (Jason Malum)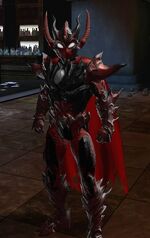 ---
| | |
| --- | --- |
| Title | Beelzebub, The Prince of Hell, The Lord of the Flies |
| Faction | Villains |
| Gender | Male |
| Race | Human |
| Location | Metropolis |
---
Abilities
---
Theology professor Jason Malum always believed that demons and evil were always misunderstood and saw light and good as the true evil of the universe. When the exobytes were released into the Earth's atmosphere, Malum was granted the powers of Hell itself, and taking up the mantle of the Prince of Demons himself, Archdemon Beelzebub now rampages across Metropolis in order to prove just how powerful evil truly is.
Vendettuh
Edit
Vendettuh (Victor Hashan)
---
---
Abilities
---
A notorious hitman for the Falcone crime family, Victor Hashan was the go-to guy for any contract, building a reputation as one of the best hitmen in Gotham. His career was ended, however, when he was linked to a hit by Detective Richard Grare and was given the death penalty. When the exobytes were released a few days before his execution, Hashan found himself with the speed and strength of his idol Deathstroke. Using his new abilities to break out of prison only to find out that Grare was now the hero Monokrome. Hashan took up the costume identity of Vendettuh and now prowls the streets of Gotham with one goal in mind: Take down the detective that ruined his career and reputation.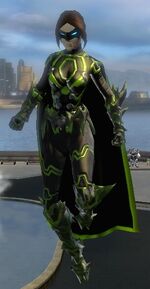 ---
---
Abilities
---
Alexis Conner was a teacher of biology when the exobytes were released into the atmosphere. Walking home from work one day, she suddenly felt all that she knew about the natural world coming to life around her. Once the exobyte had downloaded all the information it had stolen from Poison Ivy, Beast Boy, and Green Arrow into the young teacher, she adopted the name Lexicon, a nickname from her teenage years, and now uses her powers to fight off the forces of Brainiac.
Sgt. Lance
Edit
Sgt. Lance (William Lancer)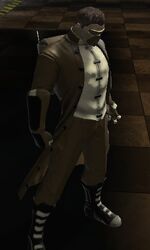 ---
---
Abilities
---
Sgt. William Lancer toured with the United States army for fifteen years. When he was wounded oversees and honorably discharged, Lancer came home hoping to be treated like a hero. When he arrived stateside, however, he found the hero worship he coveted so much going instead to the likes of Superman and the Justice League. When the future Lex Luthor released the exobytes into the atmosphere, Lancer felt his cold hatred for the heroes turn into his greatest weapon. Placing himself on the payroll of the Joker, Sgt Lance now prowls the streets of Gotham, ready to take on any so-called hero that feels they are ready to face him.
Specter Levitas
Edit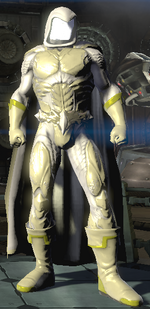 ---
| | |
| --- | --- |
| Title | The Spirit of Lightning, the Guardian Ghost |
| Faction | Heroes |
| Gender | Male |
| Race | Unknown |
| Location | Metropolis |
---
Abilities
---
While present since the beginning of Brainiac's invasion, the enigma known as Specter Levitas has only arrived near the end of it's course, feeling the new generation of Meta-Humans would need all the help they could get in the fight against the super-intelligent android. Wielding the power of lightning himself, Levitas is known to all as a force to be reckoned with.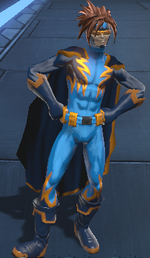 ---
---
Abilities
---
Not much is known about the erratic being known as Rickwave. He appeared out of nowhere to Lexicon during one of her visits to Gotham and has been an annoying tail for her ever since. He seems to have much knowledge about both the world as a whole as well as his fellow heroes lives. That, added to his immense strength for one his size as well as his almost unnatural combat skill have suggested to some that he maybe from a different reality. He denies such claims, claiming he is nothing more than a puppet of a higher power. Regardless of his origins, his incredible strength, skill, and power over Earth make Rickwave a bane to all that oppose him.
Savage Beauty
Edit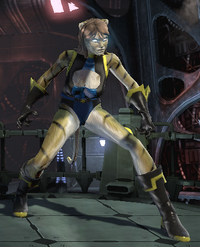 ---
---
Abilities
---
Not much is known about Savage's life before she was infected by an exobyte. All that LexCorp has been able to discover is that whatever process imbued in the damaged bot that transformed her body also ravaged her mind, leaving her in a bestial state driven by near primal desires and instincts. She is not however, completely devoid of intelligence. She learned very quickly how to use her new abilities and masterfully combines her axe and lightning to deadly effect. Lex Luthor knows good potential when he sees it, and he knows this beautiful work of savage nature could be a tool he will exploit to the highest sense.