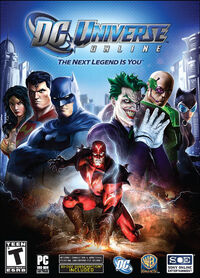 Sony Online Entertainment has announced that starting in October, DC Universe Online will become free to play, just like many other MMO games have recently.
PC and PS3 userw will be able to download and play the game for free, with two character slots and access to all of the game's locations and ability to purchase additional expansion packs. Those who spend more than $5 on the game will receive premium membership, with access to more content, like additional character slots or larger inventory. Paying $14.99 or buying a lifetime subscription will give them legendary membership, with huge inventory, over 15 character slots and free access to all upcoming DLC.
Lorin Jameson of SOE comments on the decision:
"In terms of 'Is it a result in a drop in subs' – absolutely not," he said. "This is the right business model. If I can be honest, the game ended up costing a lot more than we thought it would, and this was our preferred business model from day one."
Do you think it's a good thing that the game will now be free to play? Or do you prefer the current, subscription based model?
Source: IGN
Ad blocker interference detected!
Wikia is a free-to-use site that makes money from advertising. We have a modified experience for viewers using ad blockers

Wikia is not accessible if you've made further modifications. Remove the custom ad blocker rule(s) and the page will load as expected.