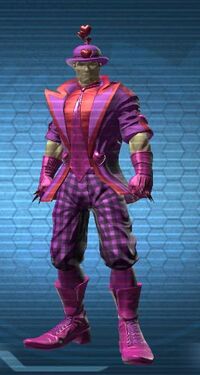 Valentine is a costume style set unique to the Valentine's Day Event.
Valentine (Styles)

Pieces
Source
Icons
Lover's Bowler
Valentine's Kiosk
Sweetheart's Jacket
Valentine's Kiosk
Paramour's Plaid Pants
Valentine's Kiosk
Cavalier's Boots
Valentine's Kiosk
Darling's Grips
Valentine's Kiosk
Color-Schemes
Edit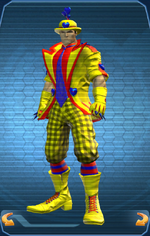 The Valentine's overall color-scheme consists of three colors that can be chosen by the Player in the Style Window. Specific sections of the style's pieces can also be allocated a more specific colour by the Player.
Emblems do not appear while wearing this style.

Pretty in Pink - Collect all styles in the Valentine set (10 points)
A Hallmark of Success - Complete the following Valentine's Day seasonal events: "It's a Love/Hate Relationship", Collection "Wedding Vows", Race "Multiplayer Flight Challenge: The Turbulent Path of Love", "Love is Hard Work", "Pretty in Pink" and "I Choo- Choo- Choose You" (25 points)
In 2011 the set's items were available from the seasonal vendor. Those were again available in 2013 through the Box of Valentine's Gifts to allow players to get the related feat. Since 2015 the set is available from the seasonal vendor.