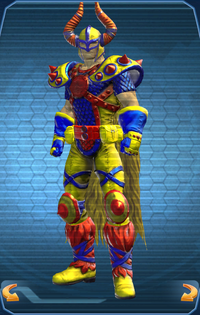 Until game update 25 Viking was an Armor Style Set available only for Tank characters.
Northern Vikings traveled to America and created settlements there across a four hundred year period, colonizing as far west as Minnesota and as far south as the Yucatan, whereupon they influenced customs, language and culture amongst the Native Indian tribes.
Viking (Damage)

Pieces
Drops
Stats

Viking (Controller)

Pieces
Drops
Stats

Viking (Tank)

Pieces
Drops
Stats
Color-Schemes
Edit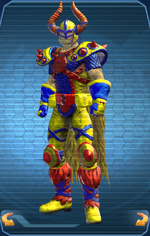 The Viking's overall color-scheme consists of three colors that can be chosen by the Player in the Style Window. Specific sections of the style's pieces can also be allocated a more specific colour by the Player.
Emblems do not appear on this style.

During an attempt to retrieve a time-displaced Cheshire and her villainess team, the Ravens, from upsetting history. Black Canary traveled back in time to America's Pre-Columbian era to retrieve them. While the mission was successful, Canary became imbedded in Viking history, with a rune etched in her likeness becoming unearthed in Minnesota.