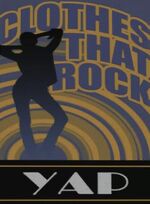 The Yap is an American clothing and accessories retailer based in San Francisco, California. A global franchise, Yap remains the largest specialty apparel retailer in the U.S., appealing to a broad demographic of customers although they tend to target youth.
In-game Involvment
Edit
Numerous billboards appear throughout Metropolis and Gotham City advertising the clothing chain.

YAP is presumably the DC comics rendition of the clothing chain, Gap.
Ad blocker interference detected!
Wikia is a free-to-use site that makes money from advertising. We have a modified experience for viewers using ad blockers

Wikia is not accessible if you've made further modifications. Remove the custom ad blocker rule(s) and the page will load as expected.